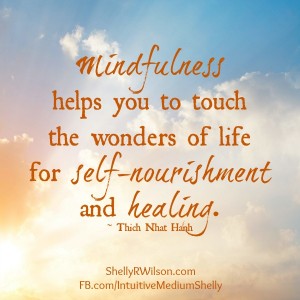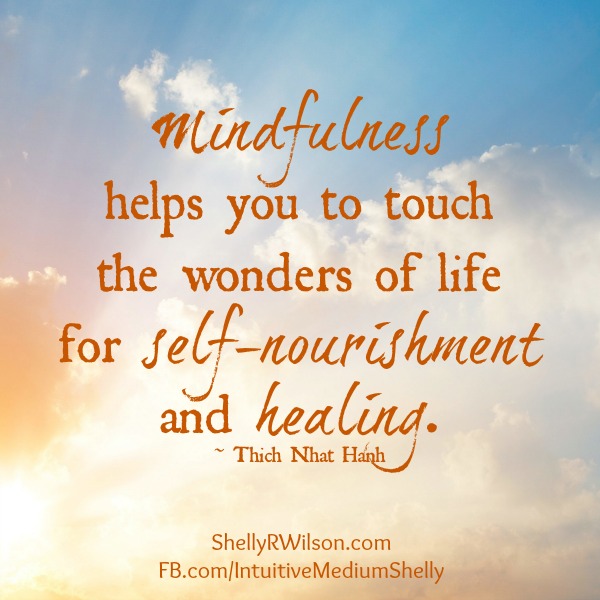 Awareness involves being conscious and utilizing our five senses – sight, taste, touch, smell, and hearing; and it also includes being cognizant of one's surroundings and the people coming into and leaving our life. The Universe assists us in bringing people, teachers and experiences into our awareness, so that we can learn, heal and grow. By allowing ourselves to be present in the here and now, we are able to see our experiences from a Higher soul perspective – through the eyes of love rather than fear.
Without fear, we are able to see more clearly our connections to others. Without fear, we have more room for understanding and compassion. Without fear, we are truly free. ~ Thich Nhat Hanh
Zen Master Thich Nhat Hanh (Tik · N'yat · Hawn) is a spiritual leader, author, poet and peace activist, who is respected throughout the world for his powerful teachings on mindfulness and peace. Among his many important teachings is that in order to heighten one's awareness, it is essential to be mindful of all that is experienced in each and every moment. He teaches that incorporating enhanced awareness into our daily life will ultimately enrich our lives.
An influential and inspirational presence, Thich Nhat Hanh is affectionately known as Thay (pronounced "Tay" or "Tie") by his students, which is the Vietnamese word for teacher. He influenced my own personal journey into consciousness as well as that of numerous others, and I have found that his key teaching is that, "through mindfulness, we can learn to live happily in the present moment, which is the only way to truly develop peace, both in one's self and in the world."
Peace in ourselves, peace in the world. ~ Thich Nhat Hanh
The Plum Village.org website talks about mindfulness as, "the energy of being aware and awake to the present moment. It is the continuous practice of touching life deeply in every moment of daily life. To be mindful is to be truly alive, present and at one with those around you and with what you are doing. We bring our body and mind into harmony while we wash the dishes, drive the car or take our morning shower."
From my perspective, as we become more aware and mindful of our own personal power, we are better able to make conscious choices, and give ourselves permission to take control of our destiny instead of leaving it up to fate.
Life can be found only in the present moment. The past is gone, the future is not yet here, and if we do not go back to ourselves in the present moment, we cannot be in touch with life. ~ Thich Nhat Hanh
By shifting perception of an experience, the experience itself will change, including those in the past, the ones that are presently occurring and those that have yet to happen. This transformation involves altering one's mindset and attitude as well as being mindful of one's thoughts, words and actions – the energetic emission that radiates from each one of us. Much can be learned by being mindful and the feeling of peace can be attained.
To learn more about Thich Nhat Hanh and his teachings, please visit his website at http://www.plumvillage.org and like his page on Facebook at https://www.facebook.com/thichnhathanh.
Information derived from http://plumvillage.org