The way you treat yourself sets the standard for others. ~ Sonya Friedman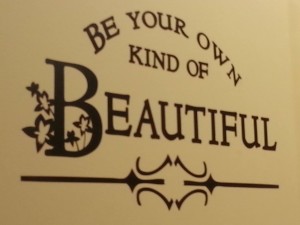 For as long as I can remember, I have always felt different.
I really love to smile, but that wasn't always the case. I used to be extremely self-conscious of my teeth. These feelings began when I was very young. When I was about four years old, I had to have all but the bottom three teeth capped with silver caps because I had tiny holes in my teeth. My teeth were shiny and silver and not really in fashion in the early 1970s. I have no doubt that they would be "in" right now! These caps were on my baby teeth, so I was stuck with them until I lost each tooth one-by-one.
The problem with my teeth meant that I seldom smiled and would keep my head tucked down; they made me feel self-conscious, so I tended to be shy. When the permanent teeth came in, they were severely discolored. Teeth whitening options were not as readily available like they are now. Even as an adult, my dentist, at the time I first addressed the issue, said that the discoloration was caused by antibiotics that were taken by my mom or when I was a child; so there wasn't much hope or even a possible resolution. Based on what I was told, I resolved that there was nothing that could be done about the coloring of my teeth, so I gave up and just accepted the color they were until 2009. You can read more about this experience in Chapter 2 of my book, Journey into Consciousness.
Physically speaking, I didn't much care for the color of my eyes or the size of my bottom lip. Reaching puberty, my physical body developed. Although my stature barely reached 5'3", specific body parts took this opportunity to flourish. I became very self-conscious of these physical attributes and still have a difficult time embracing these assets fully. Granted, some women would be delighted with what I dislike.
Learning to love myself for who I am has been quite the journey into consciousness. Reflecting on these past experiences, perhaps I was special rather than different. I chose to only see my perceived imperfections rather than seeing myself as a beautiful, unique and miraculous creation. I will admit that I am still a work-in-progress when recognizing all of my physical attributes as perfect in every way. The facial features I disliked when I was young now happen to be my favorite. Choosing to change my perception, I eventually shifted the energy of how I view my physical body.
I recently watched a video created by Dove for their Choose Beautiful Campaign. Dove states, "Would you describe yourself as beautiful? In our latest film Choose Beautiful, we travel to San Francisco, Shanghai, Delhi, London and Sao Paulo to prove that beauty is a choice – and the power of this choice is in your hands." Signs with the words beautiful and average are placed above two doors inviting people to choose the door they wished to walk through. Many easily walked through one door or the other while others hesitated. Some even acknowledged later their regret for walking through the average door. Which door would you walk through?
Along with the perception we have of ourselves, we also tend to put everyone else first and ourselves last. In doing so, we are valuing ourselves as less than the other person. My friend and colleague Drew Cali created a poster for his Facebook page and posted these powerful words, "We spend so much time making sure others are happy and get so caught up in our day-to-day responsibilities, we become last priority. Don't forget about YOU. Do something that ignites your spirit or take some down time and just be kind to yourself. You deserve it!"
Actress and healer Dee Wallace joined me on The Shelly Wilson Show yesterday for an enlightening and empowering conversation. Focusing on these same topics, we agreed that it is essential that each one of us becomes more aware of our energetic emission and how important it is to shine our Lights bright!
With that being said, I invite you to embrace the you that is YOU. Yes, this means all of you, including any perceived imperfections you may have as well. Recognize that there is no one else in the Universe exactly like you. Make the choice to love yourself for who you are – fully and completely. Choose to change your perception of any unpleasant memories and view them as opportunities for learning and growth. Accept your uniqueness and dismiss any perceived flaws or imperfections because you are perfect just the way you are.
Consciously choose to be your own kind of beautiful!