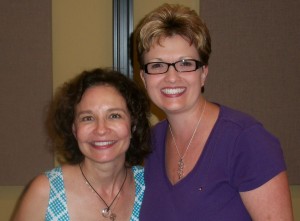 A full week has passed since I attended Sonia Choquette's The Power of Your Spirit retreat at Unity Village. I  had been thinking about attending this retreat when it first came into my awareness in April, and I finally booked it on 5/5.  For whatever reason, I KNEW that I needed to attend. Arriving at Unity Village, I checked into the hotel and was given room #407. Of course, I looked at Doreen Virtue's book Angel Numbers 101 as soon as I got home to read the following message. 407 ~ Heaven is giving you a strong sign that you're heading in a positive direction. Keep going!
Making my way to the room, I noticed plaques positioned below the room number. I made it a point to read all that I passed. The plaque by my door stated, "May this room bring you inner Peace and God's special blessings. In loving memory of our parents…" What a beautiful message to be greeted with upon my arrival. I found myself smiling and feeling extremely joyful as I ventured outdoors to enjoy the beauty of the grounds. This was my first visit to Unity Village and the serenity is palpable.
Friday night's interactive public presentation was delightful. I was especially grateful to my friend Anthony for offering me the gentle reminder to be prepared to dance because Sonia likes to dance. Thankfully, I knew to expect mobility! Waking up on Saturday morning, I was excited to see the unfolding of the day's events. We started the day with Sonia's "Breakfast of Champions" and began allowing our Spirit the opportunity to speak. She quickly encouraged us to name our Spirit, and I immediately got the name Penelope in my mind noting that my mind chatter is named Nancy. Pairing off into groups of 2-4 people throughout the day for the many exercises offered the opportunity to meet and connect with many of the attendees. She also insisted that we keep changing seats. Early on and several times throughout the day, she made it clear that we had a Divine appointment to be here. Undoubtedly, I knew this to be true to the core of my being.
The retreat was infused with music – singing, dancing and allowing our Spirit to MOVE. I continue to hear Sonia say, "How moveable are you?" She provided us with tools for our tool belt and offered a safe space for sharing and healing. I am continuing to bask in this experience and am integrating these new tools into my daily life. The exercise "Digging for Gold" was extremely powerful. She invited us speak aloud to our partner in this exercise, "If I wasn't afraid, I would __________." The words, many of them surprising to me as I heard them with my own ears, just poured from my mouth.
The words from her song, Love your Life, reverberate in my mind ~ Dance your own dance. Sing your own song. Do your own thing. Love your own life….Sing your song.
Yes, I am dancing my own dance and singing my own song! My perception has shifted once again, and I love my own life…..