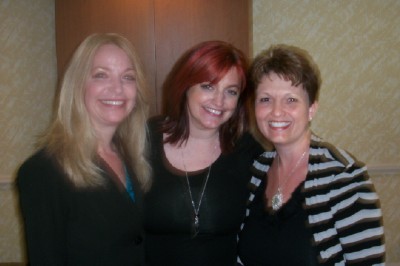 Last weekend, I was in Calabasas, California studying Advanced Mediumship Training with Lisa Williams. I applied for the course in December 2011 and began the online coursework March 19, 2012. 40 individuals were selected by Lisa to participate in this fantastic opportunity. 
To be completely honest with you, I have been questioning if I am supposed to be doing mediumship. I "hem-hawed" around  in December before I filled out the application; then turned it over to Lisa and the Universe to decide for me. Throughout the online portion, I learned a lot about myself and allowed myself to make some necessary changes in my life regarding establishing boundaries.
Friday and Saturday were comprised of learning. On Sunday, each attendee was required to read for two clients from the general public. I was not nervous at all that morning. I meditated and acknowledged that all is as it should be in each and every moment. Lisa's support in each one of us instilled within me the confidence that I have been seeking to do mediumship.
On my drive home from the airport on Monday night, I reflected on what has transpired the past few years. I had not heard of Lisa Williams prior to February 2010. In January, I was guided to purchase the Tulsa World Sunday paper. Living an hour from Tulsa, I seldom (and I mean seldom) buy the paper to read. I flipped through the entertainment section and there was an ad indicating Lisa Williams would be in Tulsa at the Performing Arts Center on February 2, 2010. I didn't know who she was, but I knew that I had to be there so I promptly got online and purchased tickets to attend.
I attended the event with my husband and LOVED it! I immediately came home, purchased Lisa's book from Amazon, and signed up for her newsletter online. Signing up was essential as this is how I learned about her Intensive Mediumship Course offered in Dallas, TX in November 2010. The rest, shall we say, is history!
I would like to acknowledge that Lisa Williams is an AMAZING teacher, woman, mother, and friend. She is authentic, real and human just like the rest of us. She reiterated throughout the weekend, "I believe in you. I want you to succeed." She has even
agreed to mentor us for the next few months.
In addition to learning from Lisa, the time I spent with my friends that weekend reminded me that we are truly reflections of one another. "The stuff" we need to work on is reflected back to us as well as qualities we find endearing. The emotions and behaviors we experience are mirrored back to us. Yes, this means "the good, the bad, and the ugly."
Not only did we learn from Lisa, but we learned from each other. We chose to be open and honest about our experiences and feelings as the weekend progressed. I believe this vulnerability was a catalyst for the shift that occurred and is still occurring within each one of us.
I would like to thank you for your support, encouragement, appreciation and most of all your love. I am reflection of YOU!