My daughter and I had the wonderful opportunity to attend Maroon 5/Kelly Clarkson opening night of the Honda Civic Tour in St. Louis, MO on August 1. This was my first experience in the pit and Caitlin's second. There were many observations that I made during my time in the pit.
1. We were not allowed to have drinks in the pit. It was hot, people were sweating, but rules are rules – no drinks of any kind. I realized that I would live, but I was definitely not comfortable for those 6 hours. The good news – without fluid intake, there was no fluid outtake either.
2. No matter what, do not leave the pit. We got to our place in the pit at precisely the moment the ropes came down. Securing our spot, we had to wait 1 hour before the concert started. I was thirsty and asked Caitlin if I could just take one quick break. After much hesitation, she let me. I got back and she decided that she would go purchase a shirt. After 20 minutes passing, the mother in me started to panic. I kept looking at my watch, looking around and no Caitlin. I texted her twice and nothing. I called twice and nothing. Finally, I asked the people around me to save our spot, and I would be back. This is where trust came in. I found Caitlin paying for her shirt and she was so angry at me for leaving the pit. I hurried back and secured our spots even though they were tighter than before. Next time (and yes, there is going to be a next time as we are headed to see them again in Dallas, TX on September 22), I will not leave the pit under any circumstances.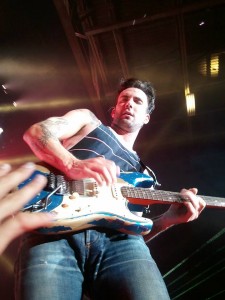 3. We had prime standing spots right next to the stage. Apparently, the side we were on was closer than those on the other side of the pit because the barrier was further out so that security could pass through easier. This 12" or less of space was a huge cause of concern for several attendees. Some were very vocal stating, "We paid the same amount for our tickets, we should be just as close." I watched one woman in particular and observed how she was letting this 12" space ruin her entire experience. This is where we have to let go of what we cannot control. We can only control our thoughts, words, actions, emotions, and reactions. Before Maroon 5 made it to the stage (Rozzi Crane and Kelly Clarkson were on before them), the gap was closed.
4. Not only was the gap closed, but everyone felt the need to get as close as possible to the stage on both sides. The concert goer next to me was a seasoned fan. (Caitlin recognized her from the Tulsa concert.) On more than one occasion, she very loudly got onto those people around me telling them to "Give the lady some space!" I am 5'2". Although, I feel quite tall, I am definitely not. I was very happy to have this woman looking out for me.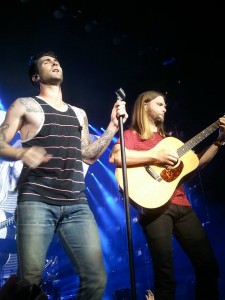 5. During my observations, I noticed a mother with her young daughter make their way to the pit. It was apparent that the girl was undergoing chemo treatments, and I could see that she had a port in her chest. The mother was so happy to be there and the girl was doing the best she could considering the heat and noise. Observing that the girl was extremely sensitive to the sound and lights, one of the security guards had them move to the end of the stage to give them more room and also gave her his sunglasses and some earplugs. Adam handed his guitar to the mom near the end of the show. People are kind and considerate; we need to practice compassion more often. Sometimes, it's the little things that mean the most.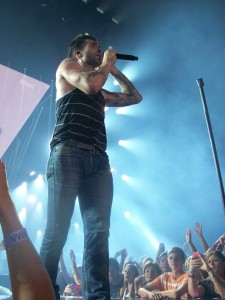 6. Lastly, during one of the final songs, a drum was placed on the stage and Adam began beating it loudly. Finishing, he held the 2 drumsticks in his hands, looked Caitlin right in the eyes and handed them to her. She wasn't quick enough to grab them and the guy next to her swiped the drumsticks out of his hand. I told Caitlin that she will always have the memory of that moment even though she doesn't have the tangible object. We should always remember that the memories can sustain us if we allow them too.
*I should mention that she is certain that Adam will remember her and give her the drumsticks in Dallas.