I recently traveled to Camp Chesterfield in Chesterfield, Indiana, which is a historic spiritualist community founded in 1886, to present three workshops. The Friday evening drive from Indianapolis to Chesterfield provided ample time to reflect with the rush-hour traffic. As I patiently made my way to my intended destination, I reminded myself that I was very brave to embark on such a journey by myself – to a place I've never been knowing no one. Of course, this was not the first time I've been brave!




Upon arriving at the Camp, I immediately discovered that the lodging did not have air conditioning. Much of the United States was experiencing a heat wave, Indiana included!
I inquired about a fan to be told that I would need to purchase one, so I did knowing that some air blowing on me would be better than none. The rooms did have windows that opened and also a ceiling fan, but the ceilings were high, and there was no wind moving.  I recognized that I was not special nor was I the only person in that situation. However, sleeping in the heat is very challenging especially when you are not accustomed to it.
I chose to view it as a learning experience and even a test coming from the "spiritual broadcasting system." As the hours passed and I was alone with myself, I questioned why I was there having this experience and the answer I received was simply put, "because you are." I was having a meltdown literally and figuratively speaking.
The more you practice tolerating discomfort,
the more confidence you'll gain in your ability to accept new challenges.
~ Amy Morin
Yes, I could have left the grounds and sought another cooler place to stay, but I chose to stay put because I'm not a quitter. When I commit to something, I follow through. My emotions were running high, and I honored each thought and feeling as they arose.
After sleeping just a short time, I decided to get up and walk the grounds before it was daylight. As dawn approached, I felt more at peace with my presence.
A dear friend helped to shift my perspective a few hours later. She had studied there several decades ago and more than likely stayed in the same accommodations. Her response to my "having a meltdown" text was powerful! She conveyed, "Meltdown? Why? Feeling alone? Outside comfort zone? You are strong and a soldier for Spirit and women. [You are] an independent woman with all the strength of the past spiritual seekers on a pilgrimage to explore all that is. This year teaches you the value of both home and travel, and they are both part of the wonderful life of a mystical seeker. Make the most of it as you can. Think of it like a sweat lodge retreat 24 hours a day with weight loss, cleansing and Spirit!"
The Saturday morning workshop I was supposed to teach did not have any attendees. This provided me the opportunity to explore the museum filled with historical artifacts, including slate writing, apports, precipitated paintings by the Bangs Sisters and numerous other photographs and paintings. I was enthralled and absorbed each and every item. I also meditated in Mother Cabrini's Healing Shrine and inquired why I had made the trek to Camp Chesterfield. The response was simple – to heal.




I taught a workshop in the afternoon. Then, attended the gala service that evening and was introduced to flame messages and flower messages in addition to clairvoyant and tarot messages. I explored the grounds after dusk, spent time in the Garden of Prayer and communed with the fairies.


Sunday morning's workshop also did not have any attendees, so I was able to attend the healing and message service offered by the seminary students. The message during the healing service focused on gratitude whereas faith was the topic for the following service. The speaker's words resonated and reminded me that many times we do question who we are, what we are doing and if we are on the right path. I felt emotional as those very questions arose while I was there.
After the service, I spent time in the book store for a book signing. Then, began making my way back to Indianapolis. I had originally planned to stay Sunday night there, but opted to stay in an air conditioned hotel near the airport. Stopping for a quick lunch, I was back on the highway. In front of me, I observed a car with the license plate FAITH. I often say that Spirit provides the perfect message at the perfect time via the perfect messenger. I smiled at the synchronicity of the message.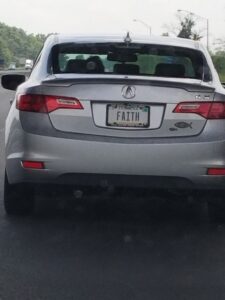 Lo and behold, within 5 minutes after receiving the message, all three lanes of traffic came to a standstill. For the next 2 hours, I traveled approximately 5 miles. Once again, I was physically challenged and felt like my bladder was going to burst. I had faith and hoped there would soon be an opportunity to exit the highway. Nearing my "breaking point," the opportunity did present itself, and I was immensely grateful.
Reaching my destination, it wasn't long before a deluge of ran arrived as well. Understandably, the challenges I experienced were minor, yet provided opportunities to reflect and grow.
Our whole life is set up in the path of least resistance. We don't want to suffer. We don't want to feel discomfort.
So the whole time, we're living our lives in a very comfortable area. There's no growth in that. ~ David Goggins
We have been taught that life happens outside of our comfort zone or that we grow through challenges, and I do believe that is true. I also believe that the Universe presents us with contrasting experiences, so that we can understand fully what this human life experience is comprised of. If everything feels good and is comfortable, how do we grow?
During those times when we are feeling alone or challenged, it may actually help to facilitate our greatest growth. Remember, every experience and individual you encounter offers you opportunities for learning and growth. Sometimes, it is necessary to step back from an experience, observe what is happening, allow it to happen and then let go of the outcome. Subsequently, the magic of the moment unfolds as you welcome the gift with gratitude and faith.
Lastly, as humans, many of us feel like we need a reason to do something or go somewhere. I am no different. I probably would not have chosen to visit Camp Chesterfield had I not been invited to teach there. I am extremely grateful for my memorable weekend with Spirit!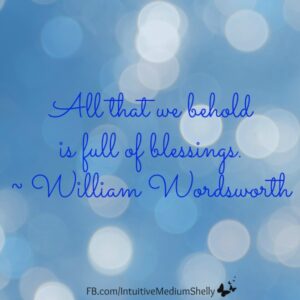 About the Author
Shelly Wilson is an author, intuitive medium and conscious creator who is passionate about helping people wake up to their greatness. She supports others as they navigate their own journey into consciousness to experience aliveness.
http://www.facebook.com/intuitivemediumshelly
http://www.facebook.com/journeyintoconsciousness
To schedule a private session with Shelly, please click here to access Acuity Scheduler and schedule your appointment time.