The power of the heart is to be connected with who you are at the deepest level. The power of the heart is the power of life itself, the power of the very intelligence that pervades and underlies the entire universe. It is a power that lies at the very heart of the universe. So to live in connectedness with that, then you are in touch with the power of the heart. ~ Eckhart Tolle
I had the pleasure of meeting author and filmmaker Baptist de Pape while attending a screening of his movie, The Power of the Heart, during Sedona World Wisdom Days. During a recent conversation, Baptist conveyed how listening to his heart changed his life.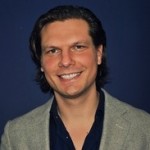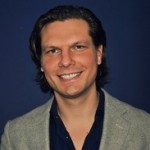 Upon graduating from law school, he was recruited by a big international law firm. Yet, he couldn't bring himself to sign the employment contract. Although he realized that he really worked hard for that opportunity, he wasn't sure he wanted to do this [practice law] because he felt cut off from his aliveness. He indicated he had two weeks to decide whether or not to sign the contract. During that period, he couldn't sleep at night as he wrestled with his decision and what he was supposed to do.
One night during that time, he watched a web class hosted by Oprah Winfrey. Sharing a conversation with Eckhart Tolle, Oprah said, "I don't think there is anything more important than finding your life's purpose." Eckhart's statement, "You can't get there through thinking" really opened Baptist's eyes as he had been trying to think his way to his purpose. Baptist relayed Eckhart's words, "If you want to find your purpose in life, then you can ask yourself 'What do I want from life?' A more powerful question would be 'What does life want from me?' If you ask the question, 'What does life want from me?' then you create a space where you can get the answer. You can only get the answer when you find moments of stillness. The best way to find moments of stillness is to go into nature."
Continuing his story, Baptist went to bed after hearing those words, and the next day went into nature.  While walking, he meditated on the question, "What does life want from me?" He did this for about an hour and nothing happened. As thoughts of doubt filled his mind, it began to rain very hard, and he forgot about the question. Finding shelter from the rain under some trees, Baptist thought he was having a heart attack as he felt that he had a bone in his heart and that it broke. The feeling was so strong that he started to cry, yet he had an overwhelming feeling of clarity and love.
Experiencing a very powerful feeling of coming home, the idea came to him that he had to make a movie about the heart. He knew then what Eckhart meant – that you can't get it [the answer] through thinking. He acknowledges that this is how the journey [of the book and movie] started, while at the same time his mind was protesting immediately with thoughts of "You've gone crazy. You're a lawyer. You don't know anything about the heart. You don't know anything about film production. How are you going to tell this to your family and your friends?" Instead, he decided to go with that feeling of coming home – that feeling of aliveness.
From the moment that you are following your heart, your life will be full of wonders. ~ Paulo Coelho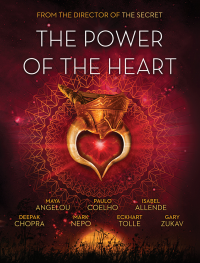 Directed by Drew Heriot, director of the movie The Secret, and produced by HeartWorks Entertainment in association with the Dutch film production company NL Film, comes this unparalleled and life-changing film about the astonishing power and intelligence of the heart. Featuring some of the most inspiring and influential icons of our age, including Paulo Coelho, Maya Angelou, Deepak Chopra, Isabel Allende, Eckhart Tolle and many others, The Power of the Heart presents fascinating evidence that our heart is much more than a physical organ; it can actually transform our views of money, health, relationships, success and other aspects of life. The film is a heart-opening and transformational experience that will lead us to uncover and rediscover the treasure in our chest.
Our spiritual growth, development and enfoldment as a being are contingent upon learning to trust the heart and the soul. ~ Michael Bernard Beckwith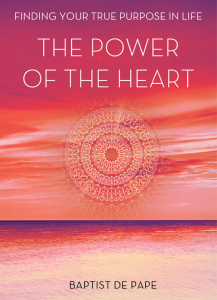 Expanding on the on-camera interviews, the beautifully designed full-color book of the same name, published by Atria Books, reveals how we can overcome limitations in our daily life and fulfill our highest potential by allowing ourselves to tap into the power of the heart. With its unprecedented convocation of eighteen of the world's greatest spiritual thinkers, authors, and scientists, including Gary Zukav, John Gray, Marianne Williamson, Neale Donald Walsch, Michael Bernard Beckwith and many more, The Power of the Heart book assists us in finding our true purpose in life by accessing the power of our heart.
The wisdom of the heart will see the power and the beauty and the opportunity of every moment that you live and cherish each one. ~ Gary Zukav
By sharing their personal stories as well as profound guidance, these true icons co-created a sensational portrait of the heart as an inexhaustible source of love and wisdom that far surpasses that of the mind. Their unforgettable lessons will inspire you to find your hidden talents, hear your inner voice, find meaning in whatever happens and fulfill your true purpose in life.
Mindfulness exercises and contemplations along with quotes from the co-creators guide you to activate your heart's special powers, including developing intention, cultivating intuition, expressing gratitude, forgiveness and loving kindness and recognizing synchronicity to improve all areas of life. The central theme among all the co-creators is that they all believe that the heart is the most powerful connection that we have with our true identity – our soul, Higher self, God and the Now. In order to find the path to your heart, you have to stop the chattering of your mind and find a moment of stillness just as Baptist de Pape did. Personally speaking, I highly recommend both the book and movie! Allow yourself to connect to the power of your heart.
To learn more about Baptist de Pape and The Power of the Heart, please visit the website at www.thepoweroftheheart.com and Facebook page at www.facebook.com/thepoweroftheheart.
Information derived from http://www.thepoweroftheheart.com