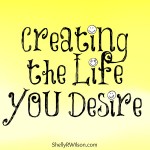 Creating the Life YOU Desire workshop is based on my books, 28 Days to a New YOU and Connect to the YOU Within, and offers insight, tools and exercises to assist you in creating the life you desire. My personal mission is to assist others on their own journey into consciousness while encouraging them to live an authentic life through awareness and empowerment. Coming from a place of respect, truth, integrity and love, I honor your free will and recognize that you are co-creating your reality with the Universe. My intention is to bring understanding, help you to heal from the past and to realize your full potential.
As you shift your perception, you will change your experiences, including those in the past, the ones you are presently experiencing and those that have yet to happen. This transformation involves altering one's mindset and attitude as well as being mindful of one's thoughts, words and actions. I invite you to begin your life in a new way and tap into your inner power as you explore who you really are. Refrain from simply existing and elect to live your life fully without regret.
Workshop fee of $30 includes pdf and mp3 audio files to download, participation in closed Facebook group (optional), and monthly teleconference calls (optional). The purpose of the closed Facebook group is to provide a gathering place to share in order to assist one another as we consciously choose to create the life WE desire.
You may enroll at anytime. Once payment has been made, the pdf and mp3 audio files will be sent to you via Hightail to download as well as the link to join the closed Facebook group. At least one teleconference call will be arranged per month in order to discuss and share your experiences as well as ask questions verbally. Your participation in the Facebook group and conference call is solely at your discretion. However, I do recommend that you allow yourself the opportunity to receive the most benefit from this experience. Know that you are not alone on this journey into consciousness.
About Shelly ~ Intuitive Medium, Reiki Master and Spiritual Teacher Shelly Wilson would love to assist you on your spiritual journey. With respect, truth, integrity and love, Shelly honors your free will and recognizes that you are co-creating your reality with the Universe. She offers private readings, intuitive coaching, Reiki sessions, and teaches workshops. Shelly's books, 28 Days to a New YOU, Connect to the YOU Within and Journey into Consciousness, are available in paperback and eBook.